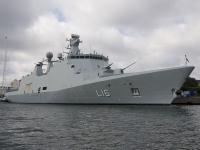 After being held captive by Somali pirates in the Gulf of Aden for 68 days, the Danish freighter CEC Future and its entire crew have been safely released after a ransom was delivered to the pirates. The amount of ransom paid remains a secret, but the 13 crew members of the ship are surely glad the ordeal is over.
The Politiken newspaper reports that the Danish freighter is now making its way to Oman's Salalah port town under the protection of a Russian ship. Once they reach Salalah, the ship's crew will be flown home. The freighter had been held captive for 68 days as the pirates waited for their ransom to be paid.
The company that owns the CEC Future told the news agency Ritzau: "We sent a small aircraft in with the ransom. The money was in a small container which was attached to a parachute and dropped in an area the pirates had determined. It was the quickest and easiest way to deliver the ransom."
Also in the ransom package was a battery-operated banknote counter. Things were delayed for two days, however, when nine of the 25 pirates demanded to catch a ride with the Danish ship to the port in Oman. They wisely departed the ship in the middle of the night after the cash had been delivered.