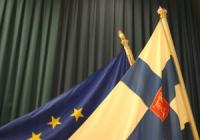 The weakened Swedish national currency, the krona, is luring Finnish shoppers from across the border looking to cash in on favourable exchange rates. Since the autumn of 2008, the krona has depreciated by 15 percent compared to the euro, and this means some worthwhile savings are available to Finns in Sweden.
The daily newspaper Aamulehti spoke with a Swedish shop owner from Haparanda named Petri Sarkkinen, who said: "The change has been clear. The number of Finnish customers has risen tremendously. The growth began in the autumn and it accelerated during Christmas shopping."
The weaker krona may be a boon for those Finns who get paid in euros, but it also has a very negative effect on any Finnish company who competes in the Swedish marketplace. Since Sweden is not a member of the eurozone, it cannot rely on the stability a strong euro brings to struggling domestic economies. In Sweden, the domestic paper industry and sawmills are being heavily hit by the devaluation.
This trend of cross-border buying is nothing new, however. Shopping tourism, as Seppo Aho, the new chairman of the Lapland Travel Association claims, is revitalising the Lapland region thanks to the cheap krona. Aho says: "The development started from Haparanda's IKEA in 2006. It attracted customers, and now the weak krona boosts sales. In the 1980s people went over to buy sugar and butter. In the 1990s and the beginning of the 2000s this declined, but now it has come back."
Similar shopping sprees are also becoming popular elsewhere, including in the massive influx of Irish shoppers into Northern Ireland, keen to spend strong euros against the weakened UK pound sterling.