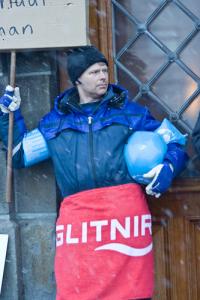 Icelanders are becoming increasingly dissatisfied with the current situation going on in Iceland. Petitions for the Movement for a New Republic of Iceland are spreading around and carefully released figures are bringing shivers not only to those that feel for Iceland.
The Movement is begging Sweden and the International Monetary Fund in particular not to grant Iceland any financial help until 'national and international credibility is reinstalled'.
An increasing number of people in Iceland are repeatedly calling for a total change of government, as the current one is blamed for having mismanaged the state economy and still, after four months, having no intention of amending what it caused. Since the start of the kreppa (the Icelandic term for financial crisis) there have been no changes at all made in the make-up of the government.
"No one has resigned and no one has been fired. They are hard at work at getting what little is left here back into the hands of those who crashed our economy to begin with," says one of the protesters who does not want to disclose his name.
"The people here are afraid and at the mercy of ruthless criminals that have nested not only in our government, but also in the businesses and banks. These banks were given to them through a faux privatisation in 2005, they have literally done nothing but spend money since, now it´s all gone, and you want to give them more?" he continues.
According to the petition, figures show that 70 percent of all companies in Iceland are 'technically bankrupt' and so are 40 percent of all households. To top that, an increase in unemployment of some 45 percent in December, was reported by the Directorate of Labour. Icelandic unemployment has not been higher since January 1997.
Referring to the Velvet Revolution in Czechoslovakia in 1989, the movement is suggesting a Fleece Revolution in Iceland.
Read the full statement of the Movement for a New Republic of Iceland at http://iceland-calling.this.is/ .
An Icelandic website http://nyirtimar.com/ shows the photographs and expressions of protestors.