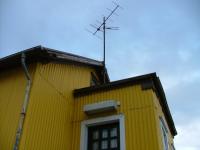 A new Capacent Gallup poll was carried out on behalf of ASI (Icelandic Confederation of Labour) to asses the situation of Icelandic personal debt. The survey revealed that the majority of those questioned (62 percent) had inflation indexed mortgages in Icelandic kronur. The next biggest group (30 percent) was those with car loans denominated in foreign currencies.
In addition to these groups, 12.5 percent of respondents had inflation indexed car loans in Icelandic kronur, 10 percent had loans classed as 'other' and around nine percent had house mortgages in foreign currencies. 16 percent of respondents had no loans at all, and they mostly fell into the youngest and oldest age categories.
"Car loans in foreign currencies are common among higher earners, whereas the house loans in foreign currencies are more popular among students than those in full-time employment. Payments on so called 'basket of foreign currencies' loans have nearly doubled in a year due to the weakness of the krona," the Capacent Gallup press release says.
Respondents were also asked how likely or unlikely they felt that they would have difficulty making ends meet in the near future. 54 percent believed it unlikely, but 30 percent believed in very likely. That represents an increase on October when 25 percent of respondents foresaw a time in the near future when they would have difficulty balancing their books. 57 percent of those who have lost their jobs said it was likely they would have difficulty making ends meet, and 39 percent of those earning less than ISK 250,000 (USD 1,959) per month.