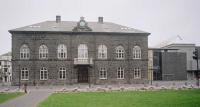 The Icelandic Progressive Party yesterday voted strongly in favour of supporting Iceland's entry into membership talks with the European Union.
The Progressive Party made its decision at its annual conference, where over 40 people spoke during a four-hour-long debate. The decision makes the Progressives the second party in Iceland, after the Social Democrats, to publicly support EU membership.
The ruling Independence Party intends to hold a similar vote at its conference beginning on 29th January.
In a statement, the Progressive Party explained that it would support Icelandic entry into the European Union if personal and business rights were protected, especially in regard to fishing and agriculture; and if the accession talks were open and democratic. Icelandic would also have to become one of the EU's official languages – although that would almost certainly happen anyway, as Luxembourgish (one of Luxembourg's official languages) and Turkish (one of Cyprus's official languages) are the only official languages not to be recognised by the EU at present.
The Progressive Party is not currently among Iceland's three biggest political parties; but historically it has enjoyed strong and sustained support. Halldor Asgrimsson was a Progressive Party Prime Minister from 2004-2006.