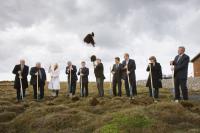 Registered unemployed figures in Iceland in December 2008 were 4.8 percent, or around 7,902 people – an increase of some 45 percent on November, according to new figured from the Directorate of Labour. Icelandic unemployment has not been higher since January 1997.
In the same month in 2007, unemployment was 0.8 percent, or 1.357 people. The Directorate of Labour estimates that the figure will rise to 6.4-6.9 percent by the end of January.
Unemployment in December was most in Sudurnes (9.7 percent) and least in the Westfjords (1 percent). The monthly increase in the capital region was 46 percent and 44 percent in the whole country.
Unemployed people who have been registered for more than six months numbered 700 at the end of December, and 610 at the end of November. 255 people have been unemployed for over 12 months.
The unemployment rate among young people has increased fastest, with the number of registered 16-24 year olds jumping from 1,408 to 2,069 in the month to the end of December. 16-24 year olds are now 23 percent of the entire jobless total.