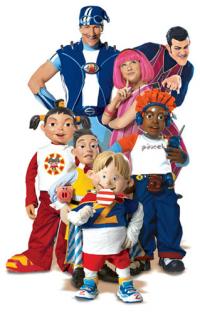 If you've got kids, the chances are you've heard all about LazyTown, the children's television programme with the health-conscious message. At a million dollars a show, it's the most expensive children's series ever made; but with enthusiastic audiences lapping it up in 120 countries, the plucky Icelandic show is still on the up and up.
Magnus Scheving, A.K.A Sportacus, is the show's creator as well as lead character. Magnus is a fitness and diet freak and actor extraordinaire; but before LazyTown, he had already made his name as a two-time European champion and world silver medallist aerobic gymnast.
Now his flexible business acumen is reaping rewards, as LazyTown Entertainment bucks the dismal Icelandic business trend and remains on course for ambitious expansion abroad. As well as all the books, DVDs, toys and clothes associated with the LazyTown show, LazyTown entertainment now plans to open a chain of healthy LazyTown restaurants in international cities like Tokyo, London and New York. There are even talks underway concerning a c. USD 24 million Sportacus movie.
"If I lost all my money, I would still feel rich because I am doing something I love," Scheving told The Times. But with a 44 percent stake in the world's biggest children's television project, his money looks quite secure. There is even a queue of unemployed Icelandic bankers desperate to join the LazyTown phenomenon (behind the cameras, of course), even if it does mean changing to an uncharacteristically healthy lifestyle.