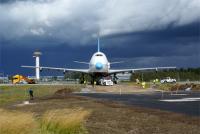 Passengers arriving at Stockholm's Arlanda Airport will discover that one of the aeroplanes has missed a turn, parking itself atop a hill just outside the airport grounds. This is no mistake: just the latest innovative effort to create budget accommodation for those who wish to sleep near Stockholm's airport.
Oscar Dios, an hotelier who also owns a hotel in nearby Uppsala, bought the Boeing 747 after its previous owner went bankrupt. Dios saw an excellent opportunity to create a unique hotel, inspired partly by similar projects using lighthouses and boats. "I got information about this aeroplane standing abandoned at Arlanda. I thought 'why not try to convert it into a hostel? Since you've been converting boats and lighthouses and trains before into hostels'," Dios told The Local newspaper.
The plan is wonderfully whacky, creating 25 rooms along either side of the 747's aisle for guests looking for affordable lodging near Sweden's pricey capital. The rooms may be small and minimally furnished, but they contain every essential amenity someone would need for a good night's rest. Showers and bathrooms, however, are communal.
The hostel will also sport a small café and reception area. Eventually Dios wants to transform the cockpit into a bridal suite, and make the First Class seating area into a domed conference room. The first intrepid guests are due to check in on 15 January, when Stockholm's newest hostel opens its hatch.