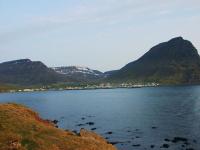 PRESS RELEASE FROM THE NORDIC COUNCIL:
Iceland would like to improve safety at sea in the North Atlantic. Even though the volume of shipping in North Atlantic waters has risen in the wake of climate change, increasing the danger of environmental disasters, adequate risk maps of the area have never been drawn up. In collaboration with the other Nordic countries, Iceland would like to produce just such a map of the North Atlantic.
Both passenger and freight shipping volumes have risen significantly in the North Atlantic, so the need for better mapping has increased. A databank of sea maps will be set up, concentrating on a risk assessment of the North Atlantic waters,but also collating information about habitats and sensitive areas, which could be in danger.The result of these endeavours will form the basis for co-ordinated environmental contingency planning for the seas between Norway, the Faroe Islands, Iceland and Greenland.
"The Nordic countries all have a mutual interest in co-ordinated data acquisition to protect the marine environment. We have observed higher freight volumes carrying oil and hazardous chemicals along the coast of Norway and in the waters between Iceland and the Faroe Islands. A databank and risk map will provide us with a joint Nordic tool for assessing the true nature of environmental threats in the area and co-ordinating our contingency plans," said Björgvin Sigurðsson, the Icelandic Minister for Nordic Co-operation.
"This collation of knowledge from Greenland, Iceland, the Faroe Islands and Norway can also form the basis for a strategy for the protection of the North Atlantic and its many valuable resources," he added.
The risk map is a calculated reaction to heavy activity and maritime traffic in northern waters due in part to rising demand for natural resources in the Arctic Region.It is expected to be finished before the end of next year.
The project is a part of the Icelandic programme for the Presidency of the Nordic Council of Ministers 2009,the main priorities of which include the Nordic countries working more closely together on the protection of the North Atlantic and the Arctic Region.Further information about the Icelandic Presidency is available at www.norden2009.is