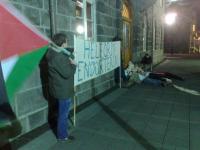 Around 30 people are currently protesting outside the Icelandic parliament building. The protesters are angry that Iceland has not been outspoken in its criticism of Israel's current military operations in the Gaza Strip, according to MBL.is.
The group is now outside parliament, but originally met this morning on the lawn of the Prime Minister's office. Police are following the protesters, but have not yet done anything to intervene.
Some of the protesters are lying on the front steps of parliament, meaning police may see fit to move them should access to the building be significantly impeded.
Photo: MBL.is/Júlíus