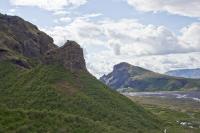 New Kaupthing Bank has not purchased any fishing permits for this summer, and neither did 'old' Kaupthing and furthermore, the bank does not plan to buy any fishing permits this year. That was the response given by the bank to questions sent from the Seydisfjordur Fishing Club.
New Landsbanki has also not bought or reserved any fishing licences for summer 2009. New Glitnir did not answer, although the club did send letters asking all three major banks, MBL.is reports.
In previous years, the big three banks have bought huge numbers of fishing permits for some of the best salmon fishing spots in Iceland. The demand from the banks forced prices out of all comparison with other slightly less desirable fishing spots and often forced club members to fish elsewhere.
The banks' champagne-fuelled hyper-luxurious country fishing trips will have to wait for another year.