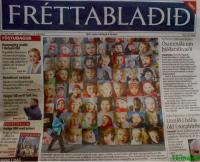 Iceland's biggest newspaper, Frettabladid is distributed free-of-charge seven days a week to people's homes. It is entirely reliant on advertising revenue and has been suffering along with all other media in the current downturn in the advertising market.
The paper is now looking at ways to return to profit, and according to DV sources, is considering reducing the number of publishing days per week. A reduction in publishing days would likely result in job losses – if only in the advertising sales department. The advertising market has shrunk by up to a third in the last year.
Arvakur, publishers of Iceland's biggest pay-per-copy paper, Morgunbladid are also working on ways to return to profitability. Wholesale merger of the two companies is no longer on the table, but closer co-operation seems likely.
Printing Frettabladid at the Arvakur print works and merging both papers' home delivery networks are two options under consideration, but not yet green lighted by the Competition Authority.