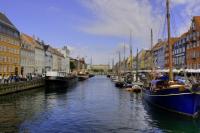 Readers of the website of the Danish national broadcaster dr.dk chose the New Year's message from Fridrik Weisshappel the best of the 24 which were posted before Christmas. Weisshappel is an Icelandic entrepreneur in Denmark.
Frettabladid reports that his New Year's message was about the financial crisis and the situation in Iceland, among other things. The message hit the mark with DR readers, with 22 percent putting it above all the others.
Next after Fridrik came Lise Muller, a nurse who wrote about the Danish nurses' strike. 16 percent of readers voted her message best. In third place was Wulffmorgenthaler (the cartoonists Mikael Wulff and Anders Morgenthaler) who wrote about ways to save money in the recession.