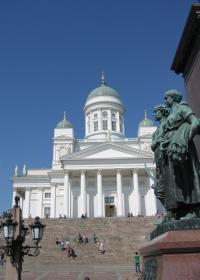 When children in Finland's capital Helsinki attend school next autumn, some of them will have the chance to study in a language other than their native Finnish. The city of Helsinki has decided to open a first grade school in Kottby (Kapyla) that will teach its classes in Spanish.
This move is in response to a growing number of parents who want their children to be educated in a foreign language, not just learn one. Marjo Kyllonen, the head of education at the City of Helsinki Education Department, explained to the Helsinki Times that this pilot school will be divided into two streams: one whose students are already proficient in Spanish and the other for those who are not.
The students who are already bilingual will be taught in both Spanish and Finnish, while the students who cannot speak Spanish will study most of their subjects in Finnish and take up Spanish as their primary foreign language. The majority of parents interested in this approach to early education have one spouse who is Spanish-speaking and the other a Finn.
By adding Spanish to its national education curriculum, Finland will use eight languages other than Finnish to teach basic subjects. While English is the most common foreign language being used, students along Finland's border with Russia can study in Russian. German and French are also popular languages in Helsinki, which is where the most comprehensive choice of languages is available.