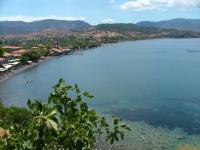 A statement of intent was signed yesterday evening on the purchase of Ferdaskrifstofa Islands (The Icelandic Travel Office) by Iceland Express, the country's budget airline.
Ferdaskrifstofa Islands is the mother company of three of Iceland's biggest travel agents: Plus Ferdir, Urval Utsyn and Sumar Ferdir. An aeroplane was stranded in Tenerife yesterday amid news of Ferdaskrifstofa's demise; but the purchase notice means the passengers are now expected home this evening.
The purchase price was not revealed, and MBL.is quotes Iceland Express CEO Matthias Imsland as saying that it will not be revealed until all loose ends have been tied up and the deal is finalised.
Imsland told MBL that Ferdaskrifstofa Islands's brand names are strong market leaders that Iceland Express wants to keep going. "We believe the effects of this merger will be good for the market, as well as for us," he said.
Ferdaskrifstofa Islands has, like many other businesses, found itself in trouble after the banking collapse of October last year – especially as the company's income is almost entirely in Icelandic kronur and its outgoings mostly in foreign currencies. "We have great faith in the company and are ready to invest large sums in its businesses so that their futures can be strong," Imsland said; adding that there should be no changes to the companies' upcoming schedules.