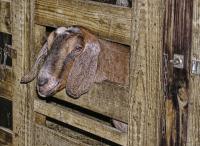 In what seems to have become a devious tradition in the northern Swedish town of Gavle, the town's giant Christmas goat made from straw has been burned to the ground. The famous Christmas goat stands 13 metres high, but it has been burned to a crisp 23 times since the tradition began in 1966.
The perpetrators of this rather un-jovial act are rarely caught, though the BBC news reports that in 2001 an American tourist got to spend 18 days in Swedish jail after being caught setting it on fire. Last season the goat managed to stay intact all the way through the holiday season, but this year it was not so lucky.
Anna Ostman, the Goat committee spokeswoman, expressed her sadness that the goat had been torched, but said "we have been so happy that he survived through Christmas Eve, which is the toughest period every year." The goat was created in 1966 to attract tourists to the northern town of Gavle. But in its first year it was burned down on New Year's Eve, and has been a favoured target ever since.
This year, Gavle authorities tried to protect the goat by coating it with fireproofing chemicals and posting security guards to no avail. According to Swedish folklore, the goat was the one who delivered the Christmas gifts before Santa Claus took over the job. Goats retain a special place in Swedish tradition and are, apparently, a popular target for arsonists.