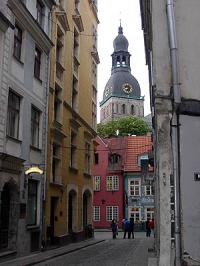 In a gesture of help to struggling Latvia, the central banks of Denmark and Sweden have offered the small Baltic nation a credit line worth EUR 500 million. The agreements in place will allow Latvia to borrow EUR 125 million from Denmark's Nationalbank, and EUR 375 million from Sweden's Riksbank. Both of the loans will be given against Latvia's own currency, the lat.
The spokesman for Latvia's central bank, Martins Gravitis, told the AP news agency that his nation would use the money to boost Latvia's slumping financial stability. In the past two months alone Latvia's central bank has been forced to spend around one third of its strategic reserves due to a decline in confidence in its currency.
Stefan Ingves, Riksbank's Governor, pointed out that the Latvia's economic problems could easily spread to the financial markets in Sweden and its other Nordic neighbours. "Ultimately, it could affect the payment system and the Swedish economy," Ingves told the AP. "It is therefore in the Riksbank's interest to help to avoid such a situation by entering into a swap agreement with the central bank of Latvia."
Latvia has also started talks with the International Monetary Fund (IMF) for a loan of EUR 5 billion. For years, Latvia's economy has grown the fastest of any other EU nation. But this year it suffered a 4.6 percent decline in the third quarter, year-on-year, which makes it the worst performing of the 27 EU nations.