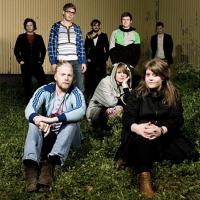 The website of the French newspaper Libération included the Icelandic band Hjaltalín in its weekend music 'audiocast'. La Playlist first introduced the band and described their sound before playing their song 'Goodbye July Margt að Ugga'.
The album Sleepdrunk Seasons will be released in France in January, but was released in January 2008 in Iceland and can already be downloaded internationally.
The presenter talks about the band's successful exploitation of the internet in getting their name and their music heard, although he says they are not a typical "internet band". The band was chosen for inclusion in the 20-minute programme of five acts by Sophian Fanen, Libération music critic.
According to Libération, Hjaltalín's style could be described as 'chamber pop' – using classical instruments and more contemporary, grungy vocals.
The band will play in Paris on 20th January and in Cannes on the 21st.