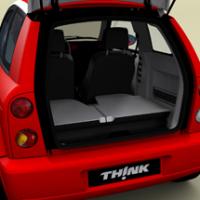 The innovative Norwegian car marker Think is seeing production of its environmentally-friendly electric car grinding to a halt just as it was starting to gain momentum. The concept of the compact Think City car is perfectly timed considering ever-increasing global climate worries, but a lack of financing may see the production terminated just two months after it launched its sole model.
The company has already decided to lay off half of its staff of 200 until the end of January, hoping that things will turn around after the New Year. It lacks the cash needed to pay suppliers, who are now demanding payment up front in the face of the global economic meltdown.
The AFP news service reports that Think has requested help from the Norwegian government in the form of credit, capital injection, or loan guarantees in exchange for a stake in the company. So far, the government isn't interested. The Norwegian carmaker has ambitious plans to become the world's leader in electric cars, hoping to double its production in 2009 to 10,000 vehicles and expand into new markets.
At the moment the Think City is only cruising the roads of Oslo, where ample recharging stations, free parking and other driving incentives make it a great choice for a vehicle. Think had planned to move into other European cities in 2009 beginning with its Nordic neighbours, but for now everything is on hold until the cash starts flowing again.