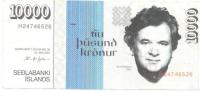 The Central Bank of Iceland (CBI) has still not needed to use any of the International Monetary Fund (IMF) loan to the country to stabilise the rate of the Icelandic krona, visir.is reports.
According to sources within the central bank, it is unclear how much interest Iceland will have to pay on its USD 2.1 billion IMF loan. IMF interest rates are variable and are tallied weekly as so-called SDR-interest. The interest is based on short-term rates in the Eurozone, the USA, Japan and the UK and is payable monthly. Currently the rate is roughly four percent and the CBI says that it should work out to be a good longer term benchmark.
It has also emerged in information from the CBI that loans from other nations have still not been finalised and their situation remains unclear. The bank would not be drawn on likely total interest costs until all loans have been firmly rejected or confirmed.