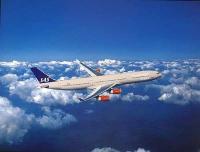 The financially embattled carrier Scandinavian Airlines (SAS) has announced that it is selling off two of its subsidiaries: Spanair and airBaltic. It is hoped that by selling its stakes in the two budget carriers, SAS can pull itself out of financial trouble and better position itself for a strong 2009.
SAS will be selling its majority stake in Spanair to a consortium of Spanish investors, but the details of the transaction have yet to be disclosed. SAS will remain a key shareholder in Spanair, but will use the cash to implement the complete restructuring plan for the Spanish carrier already under way.
The Local newspaper reported a statement by SAS saying "the SAS Group has reached an initial agreement with a group of investors from Catalonia, lead by the Consorci de Turisme de Barcelona and Catalana d'Iniciatives, for their incorporation as new majority shareholders into SAS' subsidiary Spanair." It is expected that this deal will be finalised by the end of January 2009.
SAS is also selling its 47.2 per cent stake in airBaltic to the managing group of airBaltic for US$28.6 million. In this case, SAS will give up all interest in the low-cost carrier. SAS still owns the budget carriers Wideroe and Blue 1, as well as SAS Sweden, SAS Denmark, and SAS Norway, along with a 20 per cent stake in UK-based airline BMI (British Midland).