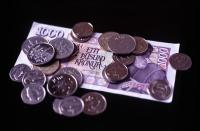 Over the last 12 months the cost of living in Iceland has increased by 18.1 percent, and the inflation rate excluding housing stands at 20.7 percent. Over the last three months, costs have risen by 5.5 percent, which would equate to an annual inflation rate of 24 percent.
The figures come form Statistics Iceland, which says that one month inflation in December has been 1.52 percent, and the rate shoots to 1.71 percent when housing is excluded.
The cost of furniture, electronics and home equipment has gone up 4.4 percent and home maintenance products by 7.2 percent. Food and drink has gone up by 2.1 percent and alcohol by 9.2 percent; although that is largely due to the recent hike in alcohol, tobacco and fuel tax. Recreational products, toys and publications have increased in price by 2.4 percent and air fares to other countries by 14.6 percent.
Petrol and oil products have decreased in price by 8.6 percent, despite the recent tax increases. The cost of owning a house has decreased by half a percent in one month, partly due to decreasing house prices and the reduction in real interest, although mortgage interest has had no effect on the inflation rate since November 2005, Visir.is reports.
Sales tax revenues were not reported, as there has not yet been enough time to include details for the increase in tax on alcohol, tobacco and oil products since 11th December. Inflation and sales tax figures will next be released in January.