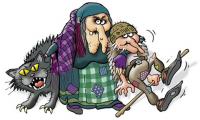 IceNews would like to wish readers a very merry Christmas and a happy and successful New Year.
We would also like to thank you for your support over 2008 – a year that has seen immense changes in the economy, and in many other areas of Northern life.
IceNews has been around for a few years now, but its progress had been slow until 2008. This year we have enjoyed a growing readership, with the numbers improving almost every week. Our focused coverage of the financial crisis has undoubtedly helped; but the trend was already established well before the autumn.
Christmas is a challenging time for news websites – especially those with a small team of staff members. They are understandably unwilling to eat their Christmas dinner at their desks. This shows an unacceptably low level of commitment in this editor's opinion.
But the news never stands still, so neither shall we.
IceNews will, therefore, be updated all through the festive season – although you may well notice a reduction in the number of new stories and the frequency with which comments are approved. For this we apologise in advance.
As well as thanking you for reading, we would also like to thank you for writing. The comment boards on our stories have proved popular, and it is obvious people are really enjoying the debates. We are also enjoying moderating the comments and throwing in a few of our own as the temptation arises!
Now also seems like an appropriate time to point out that if you have written a particularly good article or essay related to the Nordic or Northern European countries, then please feel free to send them in to news(at)icenews.is. We will be happy to publish them, subject to our usual extremely high editorial standards (please no reader comments on this sentence!).
Nobody really knows what's going to happen in 2009, so for now the best we can all do is to get on with making the very best of the festive season and worry about the future when it happens in the future.
Whatever happens, IceNews will be there to tell you all about it. We hope you'll keep checking back regularly.
Merry Christmas and a Happy New Year from IceNews!
(The picture is of Grýla, Leppalúði and the Christmas Cat. For more information, see here.)