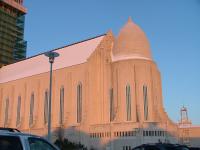 Helgi Magnus Gunnarsson, acting state prosecutor and Runar Gudjonsson, Sheriff of Reykjavik, have issued charges against Jon Asgeir Johannesson, Baugur Group and associated parties. The charges relate to alleged tax irregularities.
Those charged in addition to Baugur Group, Visir.is reports, are: Tryggvi Jonsson, Kristin Johannesdottir and the Gaumur investment company (run by Jon Asgeir's and Kristin's parents).
Jon Asgeir is, among other things, charged with deliberately filing wrong tax returns in 1999, 2000, 2001, 2002 and 2003 where he miscounted his taxable earnings.
This will be the third similar set of high profile cases brought against Jon Asgeir over the last seven years.
The official charge sheet can be seen here (in Icelandic only)