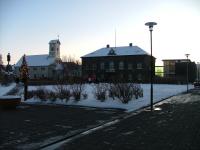 The International Monetary Fund (IMF) is happy with Iceland's progress in stabilising its economy, Poul Thomsen said in a press conference yesterday at the end of his team's first inspection visit to the country.
He said that the process was "advancing well", and that "judicious monetary policy" is helping to stabilise the Icelandic krona – the essential first step to recovery. He believes attention can soon be turned to lowering interest rates and lifting capital controls.
According to the BBC, Thomsen said that he remains "very confident" that the IMF emergency loan of USD 2.1 billion will be enough money to revive the economy.
Thomsen even went as far as to say that the worst of the crisis is now behind Iceland.
"This is obviously a very, very serious crisis," he said. "But the impact on Iceland is going to be very limited because you were hit with full force upfront."
If valuation and creditor engagement go well, Thomsen would like to see the banks recapitalised during the first quarter of 2009.
IMF officials will return to Iceland for an official review in February.