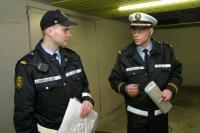 "I'm surprised at just how peaceful Icelanders are," said Margret Kristin Blondal, protesting alongside her mother, Solveig Hauksdottir outside the Cabinet meeting house yesterday. She said it's unbelievable that nobody has yet started ripping up paving stones to throw. She believes that the protests could be a lot more violent. "Maybe that's what the government is waiting for," she says.
Around two hundred protesters gathered at the cabinet meeting house yesterday and tried to prevent government ministers from gaining entry. Police officers escorted the ministers in through a back entrance. Children at the neighbouring Tjarnarborg nursery school looked on excitedly until police requested the blinds be drawn on the windows, MBL.is reports. Most of the protesters then entered the house's garden and heckled ministers as they struggled on the icy back steps on their way into the meeting.
The protesters were still there and heckling loudly as the ministers were escorted back to their cars by police and a crush of journalists, both Icelandic and international. Some minor pushing and shoving between police and protesters followed, but the demonstration was disbanded when both sides agreed to leave the scene at the same time together.
Einar K. Gudfinsson, Minister of Fisheries said he was very disappointed that the protesters chose to behave the way they did by "Preventing democratically elected representatives of the people coming into their workplace".