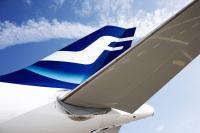 Finnair, the national carrier of Finland, has announced plans to lay off nearly 1,700 cabin crew in a bid to cut costs and maintain profitability. Airline officials told the AP news service that the layoffs will happen in April and May 2009, but will only be temporary and staggered to last about two weeks each.
Kati Lehesmaa, spokeswoman for Finnair, said: "We don't know exactly know how many staff it will affect but many are prepared to take a holiday in the spring and some will retire. Also, we shall lay off some part-time employees." The temporary layoffs will hopefully save the airline EUR 25 million.
Finnair is also dealing with an ongoing wage negotiation with the airline's 750 pilots. Once these talks reach a conclusion there may well be some temporary pilot layoffs as well. In September, employees at Finnair were given the option to take a voluntary wage cut to avoid terminating 400 of its staff; but the offers by management were rejected.
Heavy competition and high fuel costs throughout 2008 have hit the Finnish airline hard. It is looking for ways to save around EUR 50 million after reporting a third-quarter loss of EUR 17 million in October. This heavy loss is a stark contrast to Finnair's net profit of EUR 40 million a year earlier.