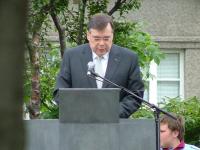 Iceland's national parliament, Althingi, yesterday passed the bill on the establishment of an investigation panel to look into the collapse of the nation's banking sector. The bill was passed with 49 yes votes. 63 MPs sit in the parliament.
Sturla Bodvarsson, the president of parliament (not the president of Iceland) introduced the bill on 27th November, but MPs made several important changes to the bill in its first parliamentary readings.
The investigating panel will include a representative of parliament, a high court judge and one university economics expert. The panel will command a special workgroup comprised of Icelandic and/or foreign economics experts whose job it will be to assist them in their investigation, MBL.is reports.