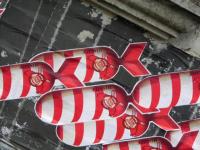 A bomb was found yesterday afternoon on the site of an Icelandic-owned factory in the town of Dobele in Latvia. The bomb was most likely from the Second World War, MBL.is reports.
According to information from Spodriba general manager Fridrik Ingi Fridriksson, who owns and operates the factory, the Latvian army bomb disposal squad was called to the premises.
Fridrik Ingi said the bomb was discovered as workers were digging up a water pipe outside the factory. The workers immediately called the police, who in turn called in army bomb disposal experts.
It is not known whether the bomb was still active or not. Such finds are not especially unusual in the region, however.
Two years ago several tonnes of weapons and bombs were found under a stone slab at a Danish-owned candle factory in Dobele, Fridrik Ingi said. It is believed the munitions were hidden there by German soldiers. Thousands of people died in Dobele during the Second World War.