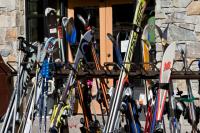 It may well be an oxymoron, but well-heeled ski bums have the chance to purchase their very own Swedish village and ski resort for the paltry price of USD 45.6 million. The village for sale is Storlien, a picturesque place in northern Sweden complete with its very own ski resort that features 24 runs, nine lifts, two hotels, and 2,900 hectares of land.
As a bonus, the Swedish royal family owns a holiday home in Storlien, so the potential buyer may have the chance to rub elbows with blue bloods on the lift or après ski. "That adds a touch of class to the whole thing. The buyer could christen the village 'Royal Storlien'," said estate agent Lennart Ekdahl to the Aftonbladet newspaper.
Two parties have already contacted the estate agency showing an interest in buying Storlien, which is essentially owned by 62 year-old businessman Lars Nilsson. However, it seems Nilsson is struggling with the idea of selling his village. "In actuality, Storlien isn't for sale. But if someone comes by and wants to pay 360 million kronor and doesn't want to haggle, then I can imagine selling," he told Aftonbladet.
The massive tract of land that comes with the deal is full of potential. It's just across the border from Norway in Jamtland County. This attracts Norwegians coming to Sweden for cheaper prices as well as Swedes enjoying their own countryside. "The proximity to Norway means there are a lot of opportunities for a Norwegian buyer. The [financial] crisis hasn't hit as hard there," Ekdahl told Aftonbladet.