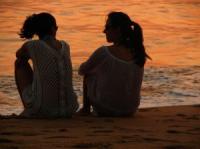 If a new law that's currently on the table gets passed by Sweden's government, homosexuals will be allowed to legally get married in the Church of Sweden beginning as early as May 2009. Prime Minister Fredrik Reinfeldt confirmed to Swedish Radio that: "Sweden could have a gender neutral marriage law by May 1, 2009."
Although heterosexual couples can choose to get officially married either in a church or a civil ceremony, homosexuals are presently only allowed to use a civil ceremony to register their partnership. Civil unions for homosexual couples have been legal in Sweden since 1995, but if the new law is passed it would make Sweden the first nation in the world to let gay couples get married in a major sanctified church.
Sweden has long been a pioneer for same-sex partnership rights. Homosexual couples can already adopt children, and the Lutheran Church has been offering a religious blessing for gay unions since January 2007. The Lutherans have been separated from the state since 2000, but 74 percent of Swedes are members of the Lutheran Church.
Of the four parties in Sweden's coalition government, only the junior Christian Democrats are vocally opposed to language used in the law. Even the opposition Social Democrats, the largest party in Sweden, supports the law so there should be enough support to see the revolutionary piece of legislation pass in parliament.