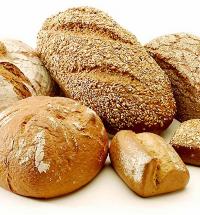 Olafur Eggertsson, the farmer at Thorvaldseyri undir Eyjafjollum, presented a new brand of Icelandic wholemeal flour at a special launch on Saturday.
The launch took place in a health food shop where the farmer offered visitors bread and waffles made from the new flour. Eggertsson said he used natural volcanic heat in the ground to help grow the winter wheat used.
Trials of wheat cultivation have been underway at Thorvaldseyri undir Eyjafjollum since around 1960. Traditionally it has never been possible to grow wheat in Iceland.
Wheat is grown on 45 hectares of land at the farm, of which five hectares are given over to the production of the new flour. The wheat was sown in July 2007, as it is a special type of wheat capable of surviving the winter. The grain was then harvested this October.
The grain growing project at the farm is said to still be going well, and barley flour is now also for sale alongside the wholemeal wheat flower.
The flour is available in 2kg bags sold at ISK 750 each.