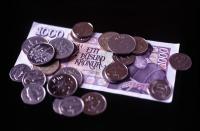 The Central Bank of Iceland yesterday confirmed that the Icelandic krona will begin to be traded again on the interbank market today, MBL.is reports.
The Bank's statement said that the move will encourage a level of normalcy in the value of the krona, as the value of the currency will be determined by the market in the future and not by the sale price of Central Bank daily currency auctions, as has been the case recently.
The shift in the means of trading the krona does not, however, mean that restrictions on its use and trade have yet been abolished.