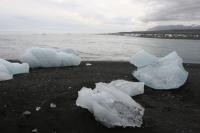 The well-known events management, incentive travel agency in Iceland, Practical, is also expanding into the international market. This event management company is taking part in the Global Meetings and Incentives exhibition in Barcelona – EIBTM, Spain.
Practical is famous as the imagination behind some of Iceland's most memorable corporate launch parties and conferences.
The company points to its staff as its greatest asset – experienced, fun, and committed. But for international clients, Practical has come to realise its native Iceland is just as big an attraction.
Iceland is one of the world's fastest growing destinations for incentive travel, due to its unique and varied landscape and endless list of possible activities. The current exchange rate for the Icelandic krona makes the options for incentive travel to Iceland even more Practical.
The Icelandic nature proves an exciting and challenging location for team building exercises, in a world where the most successful team building events are the most memorable ones. Practical believes the same is true for conferences as well. Businesses that hold conferences in interesting locations may forever be associated with them in the minds of attendees.
Apart from organising events in Iceland, Practical has also arranged events in Belgium, Greece, Greenland, Germany, Denmark and Monaco.
The exhibition starts tomorrow, December 2nd and lasts for two days. For more information about the opening times and events, visit the website of the exhibition here.
Become Practical and visit the Practical website for more information.
(Advertisement)