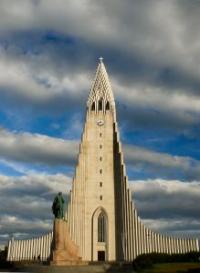 90 percent of foreign tourists in Reykjavik this summer had a good or a great time in the city, MBL.is reports. The information comes from tourist officials who interviewed 2,000 foreign tourists at Keflavik International airport on their way home from Iceland.
Such surveys have been carried out since 2004, but never with such a high rate of satisfaction as this year.
According to the survey, 71 percent of visitors ate out at restaurants, 60 percent went shopping, 39 percent went to museums and/or galleries and 22 percent took part in the weekend nightlife. Reykjavik swimming pools also turned out to be very popular.
The survey also asked whether participants agreed with certain statements. 86 percent of respondents agreed that Reykjavik was a safe city, 83 percent found it clean, 75 percent found it easy to get around and 72 percent believed it was a creative city.
The older the tourist, the more they liked Reykjavik; as 96 percent of the over-55s had a good or great time, while only 87 percent of the 16 to 35 age group said the same.
Of those foreign tourists who visited Reykjavik this summer, it seems North Americans were the most satisfied with their stay, with 97 percent of them having a good or a great time. The British and southern Europeans were not far behind.