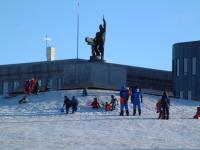 A youth movement of the Independence Party in Iceland has issued a statement today putting them at odds with the senior section of the party. The Independence Party is the senior government coalition partner and is headed by Prime Minister Geir H. Haarde. Current Central Bank chairman David Oddsson is also a previous Independence Party leader and former Prime Minister.
Heimdallur Association of Young Independence Party Members in Reykjavik said in its resolution statement that the board of the Central Bank of Iceland and of the Financial Supervisory Authority should all resign and take some responsibility for Iceland's economic crisis.
The statement said:
"The board of the Central Bank needs to enjoy the trust of the nation and the international community, but it is obvious that the current board does not enjoy such trust. If the Icelandic economic system is to get back on track, it is important that the Bank regain trust. An important step in that process will be a change in personnel at the helm.
"The Financial Supervisory Authority management have disappointed in their supervisory duties with regard to the banking sector. The Authority was in a key position to react to the chain of events that eventually led to the banking collapse, just by using the powers that were at their disposal.
"The Board of the Heimdallur Young Independence Party Movement advises that a change of personnel in the government from both coalition parties will be an important step in rebuilding some belief and trust in the government which has been lost. The cabinet of Geir H. Haarde absolutely has to rebuild the trust it has lost."