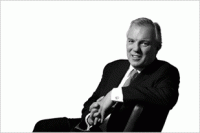 Straumur Burdaras, Iceland's biggest investment bank, has announced plans for a special fund to support and develop businesses in Iceland during the current kreppa (recession).
Known as Project Phoenix, Bloomberg reports that the fund could attract as much as EUR 500 million, to help struggling players in industries including food, tourism and insurance.
Straumur CEO William Fell said the bank will itself invest EUR 40 million into the fund. "We're looking to set up an Icelandic-focused restructuring fund that we hope will attract domestic and international investors and that we'll seed with our own capital," he said. "It will help with the restructuring and recapitalisation of Iceland and will look at key industries."
Straumur Burdaras is the biggest Icelandic bank not to have been taken over by the government in October. Despite announcing third quarter losses this week and seeing total assets contract by a quarter in 2008, Straumur still takes credit for carrying on as normal in today's unprecedented harsh trading conditions.
The Project Phoenix fund will, William Fell said, be managed from Iceland and have an independent board. The project's name comes from the mythical phoenix: a bird which burns to death at the end of its life only to be reborn again from the ashes in a near eternal life cycle.
"We've been contacted by a number of both domestic and international investors – not vultures but medium and long-term investors – who see opportunities in investing in the restructuring of Iceland," Fall told Bloomberg. "Some are ready to provide quite significant amounts of money."