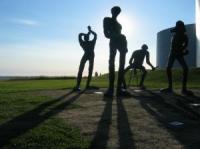 According to another new Frettabladid poll, around 70 percent of Icelanders want to vote for a new government before the next scheduled election in 2011. The biggest group, 38.6 percent, want elections in spring 2009.
When broken down along party political lines, nearly all Progressive Party voters want fresh elections after New Years or in the spring. 85.7 percent of Left Green supporters want elections in spring, at the latest.
Among the two coalition government parties, more supporters of the smaller Social Democrats are in favour of early elections than supporters of the larger Independence Party. 71.3 percent of Independence Party voters do not want to move the election and 23.3 percent want the elections no later than next spring.
27.6 percent of Social Democrat voters do not want to move the elections, but 63.7 percent support the idea of fresh elections before the end of spring 2009.