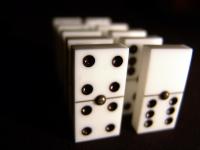 A new world record has been set for the number of dominoes laid out and dropped in a single go. Miss Finland, Salima Peippo had the rather dramatic honour of tipping over the first domino. Her background as an acrobat served her well, as Peippo was suspended by ropes from the ceiling of the venue and lowered tentatively into the centre of the domino maze to gently start the mesmerising display into action.
The AP news agency reported that the event took place in the Netherlands during a two-hour television programme in which a record-breaking 4,345,027 dominoes spilled, rolled and flew through the air in a display that was nothing short of magical. The annual event was shown live in eight countries, and fortunately went off without a hitch.
It took eight gruelling weeks to set up the domino display, which was created by more than 85 people from 13 countries. In a subtle reminder of a near-tragedy in 2005, when a sparrow made it into the exhibition hall and knocked over 23,000 dominoes, one section of this year's display featured a small bird with its wings flapping.
In addition to the record-breaking effort to topple the most dominoes, 10 other domino-related records were broken on the night. The fastest domino toppling and the most dominoes stacked on top of a single domino were among the other amazing feats.