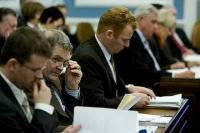 A vote of no confidence brought to the Icelandic parliament today has been defeated, RUV television news reported.
The bill called for the dissolution of the current coalition government by the end of the year and elections to follow.
Discussions took place most of the day in parliament, but the eventual vote saw 18 members support the bill and 42 oppose it. Three abstained.
Steingrimur J. Sigfusson, leader of the Left Green Movement said he was disappointed with the result, but happy that the discussions had taken place and a that important issues had been talked about openly.
Prime Minister Geir H. Haarde of the Independence Party said during the debate that an Iceland without a government at the present time would be a terrible idea and that the present government needs to be able to get on with its job at this critical and delicate time.
Foreign Minister and leader of the Social Democrats, Ingibjorg Solrun Gisladottir said that the next one and a half months will be a time of great action and that the current government should could continue its business for that long at the very least. Her comments come despite the fact that her party (the smaller of the two coalition partners at present) stands to make considerable gains in any election, according to opinion polls.
Meanwhile a large open meeting is being held this evening at the Haskolabio theatre where over 50 panel members will answer questions from the floor, including both the Prime Minister and the Foreign Minister.
(Photo: mbl.is/Ómar)