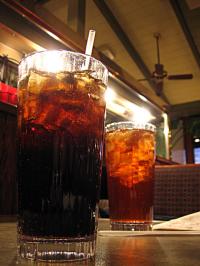 A Nordic report on the dangers of caffeine consumption on children and teenagers in the Nordic countries was published in October 2008. The report is a cog in Nordic collaboration under the auspices of the Nordic Council of Ministers.
According to the results of the study, Icelandic teenagers drink more fizzy drinks than their counterparts in the other Nordic countries. About 50% of teenagers in Iceland consume considerably more fizzy drinks than teenagers in Scandinavian countries.
Daily consumption of caffeine-containing drinks is a common occurrence in all age groups all over the world. This also applies to children, who obtain caffeine primarily by consuming fizzy drinks and/or food and drink products that contain cocoa.
Caffeine can have various effects on the body. Like with adults, moderate consumption of caffeine can have a stimulating effect on children and teenagers. Larger amounts, on the other hand, can produce a negative effect, such as fretfulness and anxiety.
The Icelandic Food and Veterinary Authority will hold a meeting about the subject on Tuesday 25 November.