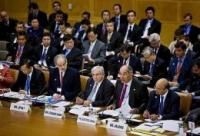 A meeting of the board of the International Monetary fund (IMF) on the subject of Iceland's loan request is scheduled today.
The meeting in Washington DC will go ahead at 15.00, which is 20.00 GMT in Reykjavik and London. The board's decision on the loan application is expected before midnight GMT, if the meeting goes as planned.
The general opinion is that the IMF probably will approve Iceland's application for a USD 2.1 billion loan, which is approximately ISK 290 billion.
Subject to the loan's approval, a consortium of countries, including the Nordic states, Poland, the Faroe Islands, and probably Russia and the European Union, have expressed a willingness to lend Iceland a further USD 3 billion, equal to ISK 420 billion.
IceNews will provide further information as it becomes available.