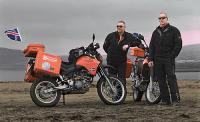 The beautiful island of Iceland boasts extraordinary active volcanoes, raging rivers, large glaciers, magnificent mountains and great waterfalls always in sight. Iceland is the ideal place for the biker to experience the adventure of a lifetime.
Blue Mountain provides guided motorbike tours around Iceland to help tourists see Iceland from a unique perspective. Tours can be tailored to customers' desires, budgets and length of stay. Blue Mountain is a fully licensed travel agency and a premium motorbike tour company in Iceland.
The Iceland motorbike tour company has recently issued the new 2009 schedule and company owners hope for big things, as happy customers return and spread the word to others, and as Iceland itself becomes more affordable to foreign tourists.
Blue Mountain was established by Sverrir Thorsteinsson and Herdis, his wife in 2006 and their stated mission is: "To make each day in Iceland a pure adventure experience and make sure that everyone who visits will have a great time and go home safely and with a smile on their face".
Blue Mountain motorcycle tours in Iceland feature new BMW F650 GS motorcycles, which are equipped with side luggage cases, heated grips and GPS upon request.
The bikes on offer have a history of being trustworthy and easy to handle motorcycles. In addition to organised day and multi-day tours, Blue Mountain also provides guides for motorcyclists visiting Iceland with their own bikes.
Iceland's unique and inspiring landscape is what makes the country so appealing to tourists; and the lack of traffic and the challenging terrain are reasons it appeals to motorcyclists as well.
Iceland is a lucky dip of large glaciers, raging rivers, great waterfalls, active volcanoes and magnificent mountains. It is the ideal place for the biker to experience the adventure of a lifetime. Travelling around Iceland gives the opportunity to enjoy the warmth of the friendly Icelandic people, who are always willing to share something of their unique culture and heritage.
For more information, or to book a motorbike tour of Iceland, visit www.bluemountain.is.
(Advertisement)