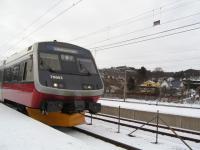 In the latest volley of an ongoing battle between officials in charge of Norway's notoriously beleaguered train network and the government's Transport Ministry, railway officials were summoned to the ministry to account for the constant train schedule delays and cancellations that are frustrating Norwegian passengers to boiling point.
Aftenposten newspaper reports that this is the third time Transport Minister Liv Signe Navarsete has had to call in railway officials to demand an explanation for why the nation's trains are so poorly managed. Those in charge of both the Jernbaneverket (tracks, signals and other rail infrastructure) and the state railway NSB, who operate most of Norway's trains, were grilled by Navarsete.
Aftenposten has run a series of stories about the problems plaguing Norway's train system. In this year alone, there have been 5,400 cancelled trains and 154,000 delayed trains. These numbers are up 18 percent over delays from 2007, and this year still has two months to go.
Delays and cancellations are sometimes caused by natural events like storms, but more frequently by technical troubles and sloppy maintenance. "It is unsatisfactory for me as transport minister that so many trains are cancelled or delayed," Navarsete said. "There has also been an increase in these incidents this year. I will therefore call in Jernbaneverket and NSB to go through the situation and get on the table things that can be done to improve the situation."
Norway has budgeted for a heavy increase in funds for its national train service, but it will take years for the new tracks and trains to get up and running. For now, most passengers would be satisfied with reliability.