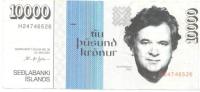 Icelandic police in the capital Reykjavik are investigating a rather unique money counterfeiting case.
The story goes, according to MBL.is, that an opportunistic gentleman went into a Reykjavik convenience store on Monday and paid for his shopping with a 10,000 kronur note. Eye brows should have been raised instantly.
There is no such thing as a 10,000 kronur note in Iceland (yet). The biggest denomination is 5,000kr, and all Icelandic notes feature important historical figures from the country's past. The new counterfeit note featured the face of current Central Bank chairman, David Oddsson.
The (probably teenage, (ed.)) shop sales clerks were apparently not quite awake. Almost incredibly, the note was accepted without question, and the man got around 7,000kr back in change!
The police confiscated the offending banknote, as well as the shop's security surveillance videos. The identity of the forger should, therefore, not be too difficult to ascertain.
In the meanwhile, the police are reminding people that no 10,000kr banknote has ever existed in Iceland. They advise shop workers to be very careful when dealing with cash payments. They advise everybody else to stop laughing and not to get any ideas.
NOTE: Since this article was written, it has emerged that the shop sales assistant in question was a foreign national who did not yet have full knowledge of what Icelandic banknotes look like. Police now urge all Icelandic citizens of foreign origin to reacquaint themselves with the appearance of banknotes to avoid being defrauded in the future.