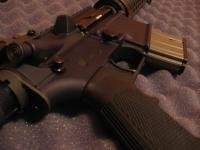 Police in Oslo are becoming more concerned that a spate of shootings in the Norwegian capital is the result of an escalation of tensions between rival gangs. The latest victim was a 20 year-old man who was shot on the streets of Oslo late at night. The bullet went straight through the victim's heart, yet he survived after intensive surgery. Some are calling it a miracle.
Police suspect the victim to be connected to one of Oslo's gangs since the shot was likely intended to kill the man. Oslo police inspector Hanne Kristin Rohde told the newspaper Dagsavisen: "We don't know whether (the shooting) is the result of a gang conflict, and haven't found any clear motive yet. We do know that the shot was fired in a way that definitely makes this an attempted murder."
Rohde added that it seems likely the latest shooting was connected to the ongoing turf war between various Oslo gangs fighting it out for supremacy of the streets. Just ten days earlier, another man was shot in Oslo's Furuset district. That particular shooting resulted from a huge brawl between youths who are involved in two gangs from Oslo's Furuset and Gronland districts.