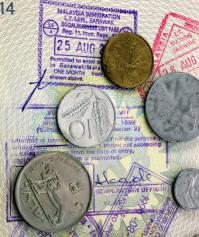 In a move that surprised just about everyone in Norway's government, the Justice Ministry announced suddenly that it wants all travellers to and from Svalbard to pass through passport control. The unpopularity of this move by the Justice Ministry could be felt as far south as Oslo, where officials in the Foreign Ministry as well as police from Tromso responded that it's unnecessary to require passport checks on people entering the Arctic archipelago.
Karsten Klepsvik of the Foreign Ministry told Norwegian Broadcasting (NRK): "Our main point is the simple fact that Svalbard is part of the Kingdom of Norway. It's not desirable that people should have to show their passport when they travel within the country."
Svalbard's local governor sees things differently, and supports the idea of establishing passport checkpoints on Svalbard in order to keep a closer eye on undesirables. The purpose of the passport control would be to reduce the chance of criminals or terrorists crossing in and out of Svalbard, but Tromso's police chief feels this is totally unnecessary and will require a lot of cash and manpower to set up.
For its part, the Justice Ministry claims that Svalbard is not technically included in the European Schengen area that allows citizens from member countries to cross borders without a passport. While Norway is a member of Schengen, Svalbard is a special administrative area that falls under Norway's jurisdiction, and thus needs its own passport control.