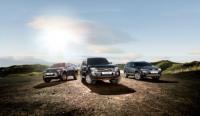 The export of used cars from Iceland is gathering an unexpected amount of attention abroad.
Used cars from Iceland are becoming a practicality as the economic crisis has caused a significant slowdown in the domestic market, and is also causing some owners of large and luxury cars to downgrade.
These two factors have combined to cause a surplus of Icelandic cars for sale – and the severely weakened Icelandic krona means prices in other parts of Northern Europe are often now considerably lower.
www.nordiccarsale.is, the car export website opened last week by HEKLA, has been reported widely in newspapers and other media in many countries – especially Finland.
HEKLA is one of Iceland's oldest and biggest car dealerships; but it has never been active in the export of used cars from Iceland until now.
The website has been viewed most in Finland, Denmark, Norway and the Faroe Islands – reportedly by tens of thousands of people.
Nordic Car Sale apparently ships the cars from Iceland at no extra cost. HEKLA has not yet released any precise website traffic details or sales figures, but IceNews will be keeping a close eye on how the project advances.