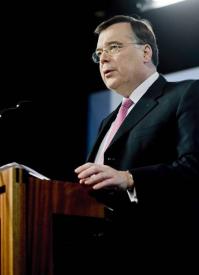 PRESS RELEASE FROM THE ICELANDIC PRIME MINISTER'S OFFICE:
The Nordic countries have declared their readiness to help Iceland in battling the current financial crisis. A high-level committee will consider Iceland's financial needs following a planned loan from the International Monetary Fund (IMF), and look into how the Nordic states could assist in cooperation with the IMF.
At a meeting yesterday afternoon, the Nordic Prime Ministers discussed the international financial crisis and the serious situation in Iceland in particular. They agreed to establish a high-level committee to monitor implementation of the IMF's stabilisation programme and to discuss and coordinate measures to assist Iceland in recovering from the serious situation in which the country now finds itself.
Prime Minister Geir H. Haarde:
"I highly value the strong support I received at the meeting yesterday in Helsinki. The Nordic working group will be instrumental in coordinating the assistance to Iceland. We will weather this crisis and emerge stronger as a nation," said Haarde, adding that Iceland had a preliminary agreement with the International Monetary Fund last week on a loan of USD 2 billion. While emphasising that he did not want to put pressure on his colleagues, he indicated that Iceland's financial requirements were in the region of USD 4 billion in addition to the IMF loan facility.
"Iceland is counting on its Nordic neighbours as well as other friends for help to revive the economy after the sudden failure of the country's banks. The expressed solidarity of the Nordic countries is of extreme importance to us. I also hope that our dialogue will be the first step towards more cooperation and strengthened alliance between the Nordic countries in the face of the international financial crisis – a crisis that could threaten the stability of many more countries," Haarde said at a meeting of the Nordic Prime Ministers in Helsinki, where talks of Ministers from Norway, Sweden, Denmark and Finland will continue today.
Statement from the Nordic Prime Ministers' Meeting in Helsinki, October 27th (http://www.norden.org/start/start.asp)