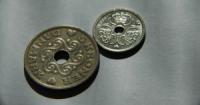 The Home Rule government of the Faroe Islands has decided to extend Iceland a loan of DKK 300 million (ISK 6.1 billion, USD 50.3 million). All the political parties in the Faroese parliament have backed the move.
A statement from Faroese officials says that the islands and Iceland held a meeting earlier today in Helsinki, where the Nordic Council is currently meeting. MBL.is reports that the difficulties in the Icelandic economy were the subject of the meeting, in particular the country's need for foreign currency reserves.
Faroese government representatives discussed the issue with all parties on the Islands and decided to offer Iceland a DKK 300 million currency loan to be credited to the Faroese national account at Iceland's Landsbanki Bank.
The loan must still be rubber stamped by parliament when it is officially in session.
The Helsinki meeting was attended by Kaj Leo Johannesen, the First Minister of the Faroe Islands, Jorgin Niclasen, Faroese Foreign Minister, Johannes Eidesgaard, Finance Minister, Geir H. Haarde, Icelandic Prime Minister and Arni M. Mathiesen, Icelandic Finance Minister.
Many Icelanders are taking the loan as a sign of the country's close and longstanding relationship with the Faroe Islands, a self-governing part of Denmark. But many Icelanders are also uneasy about taking money from such a tiny nation – despite the amount of money on offer being largely symbolic.